8th Grade
In 8th grade I forgot to mention that some students have completed their QR code paintings. To these individuals I have explained the new project that we will be starting. We will be constructing a large mylar Chinese lantern.
We started by learning the origami folds needed to construct the lantern. We started with plain paper, and then I provided a 12"x12" ornate piece of paper.
Students then constructed a small model in which they begun to paint their design for the lantern on rice paper. We have been creating this origami form on various papers so that when we transition to the mylar paper we will be well rehearsed when folding the lantern with the thick and often unruly mylar (plastic) paper.
This project will also include a white LED that will allow the lantern to glow!
7th Grade
In 7th grade some students have completed their mobiles and have now embarked on designing Alebrijes.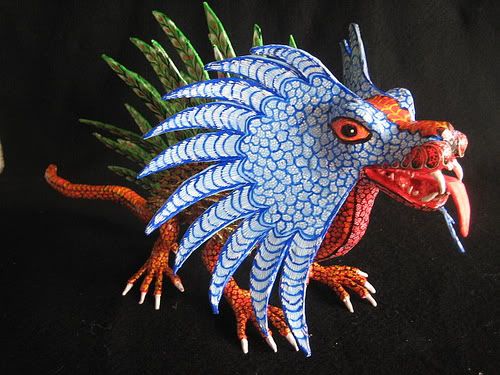 "Alebrijes originated in Mexico City in the 20th century, in 1936. The creation of the first alebrijes, as well as the name itself, is attributed to Pedro Linares, who was an artisan from México City (Distrito Federal), who was specialized in making piñatas, carnival masks and "Judas" figures from papier-mâché, which he sold in markets such as the one in La Merced.
In the 1936, when he was 30 years old, Linares fell ill with a high fever, which caused him to hallucinate. In these feverish dreams, he was in a forest with rocks and clouds, many of which turned into wild, unnaturally colored creatures, which frequently features wings, horns, tails, fierce teeth and bulgy eyes. While seeing the creatures, he heard a crowd of voices which repeated the nonsensical word "alebrije." After he recovered, he began to create the creatures he saw using papier-mâché and cardboard" (Alebrije 2013).
In the spirit of Linares we will construct our alebrijes from papier-mâché and cardboard. Paint then will be applied to our small dream animal.
To create the alebrijes we will use a similar design process as we did for our mobiles however this project will require a front, top, and side sketch of your animal along with sketches on how you plan to construct the armature of or the underlying structure of your animal. I need to see your thoughts on paper!
We will also use LED lights to light up the eyes of your animal, and a thoughtful treatment of how you plan to incorporate a switch, battery, reistor, and subsequent wiring into your design will also need to be illustrated.
This project will be formally introduced on Tuesday during the second half of class to all 7th grade classes.
"Alebrije." Wikipedia. Wikimedia Foundation, 02 Dec. 2013. Web. 23 Feb. 2013.